This post is the continuation of JBoss installation domain.
On the basis of the previous article, we will expand the domain to a new server on another machine increasing service availabilities.
The new machine will be called clu02 (IP 192.168.128.221), it will connect to clu01 (Domain Controller (DC) IP 192.168.128.220) and the final structure will be: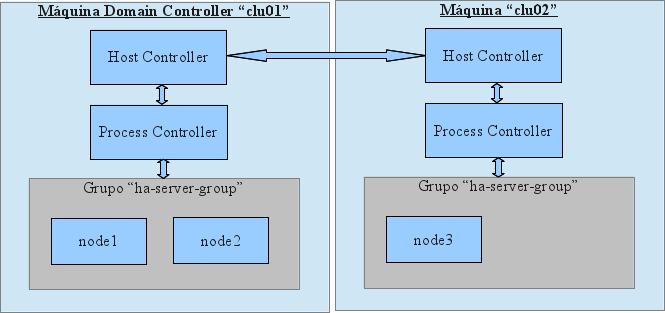 Steps to follow:
1- (clu01) create user (the name must match the name of the host, in this case host2):
User/password defined: host2/host2user
2- (clu01) Obtain password in encrypted version Base64 with the Base64Password:
3- (clu02) Edit the file:
Assigned to the host name (first lines), which is equal host2 assign the user created:
We define password of host2 user:
We define where is the domain controller:
Modify listener interfaces:
We define the server:
4- (clu02) start server:
5- (clu01) in the log we should see something like:
Indicating that it has recognized the new server.
All applications that were deployed in the group should now be served by the new server, for example:
http://192.168.128.221:8180/ClusterWebApp/
In this situation we can only put a balancer in front.